Hello Indianapolis and St. Clair Place!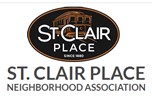 This week, I'm highlighting the Near East neighborhood of St. Clair Place, just east of downtown Indianapolis, IN. Spurred by recent growth, St. Clair Place is experiencing a revitalization. The neighborhood enjoys a close proximity to I-70 and I-65 for interstate access while also offering a short two-mile commute to downtown, including Mass Ave, BottleWorks, and the Circle City Industrial Complex.
Some of the great neighborhood highlights include:
Mayfair Taproom– a great neighborhood pub
Tick Tock Lounge– a classic brunch haunt
Rabble Coffee– a locally-owned coffee shop
18th St. Brewery– great food and beers
Audrey's Place– fun and quirky antiques and finds
Tim and Julie's Another Fine Mess- great architectural salvage
The NEAR website is also a great resource for information.
There are great homes for sale in the area. Please check out 635 N. Beville Ave. to see an option for owning your own slice of St. Clair Place. Call, text, or email me with questions!